The New York Times store website – Brilliantly simple and stylish
The New York Times Store  is a top candidate for a best ecommerce website award. The design doesn't just credit the brand, it blends seamlessly with it to create an impressive level of integration and deliver more than the sum of the parts as regards brand equity.
The design is contemporary, unfussy and clean, a brave move when it can be tempting to throw every single piece of relevant content you possibly can into a page just in case something important gets missed. Less is usually more where great graphic design is concerned, and this one's wonderfully uncluttered and simple.
A collection of seriously cool, stylish images leads the way in the top banner, inspirational stuff and so very NYC. Overall there are fewer images than you might expect, which makes everything really easy on the eye. And the entire customer journey feels seamless. In this case smooth, super-simple navigation, the rejection of clutter, and keeping a tight rein on relevance all drives design success.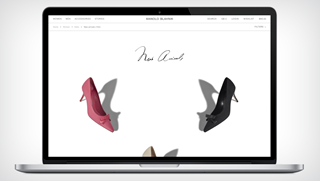 The Manolo Blahnik shoes website - Catwalk-style perfection
If you're going to spend upwards of five hundred quid on a pair of shoes or at least £1500 on an evening bag, you expect a seamlessly good online buying experience, and the photography has to be absolutely impeccable. That's what the Manolo Blahnik shoe website does, drawing you into the brand's irresistible tractor beam with stunningly good shadow-embellished photography that makes the products stand out against lots and lots of lovely, classy white space.
This is a brand that's not afraid to let white space have its own way, and the catwalk-inspired scroll feature only adds to the exclusive, expensive feel. There are several fabulous zoom-able images of each shoe style for customers to examine, and there's minimal written content, perhaps something a brand like this can get away with because most of their customers probably search Google using the brand name.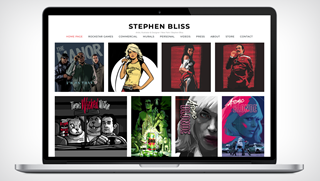 Stephen Bliss Art – An artist's ecommerce site to die for
You don't have to spend a fortune on an ecommerce site though. Here's a good example of using a templated design and off-the-shelf ecommerce package. It's like stripped back ecommerce, but all the better for it. Click on one of the clearly laid out products, look at it, click buy, enter details, done.
It's tempting, as an artist, to fill the screen with colour and pattern and ram every web page full of visual interest to stop the slightest inclination to click away. It's hard to resist making the whole site into an all-singing, all-dancing jumble, to funnel visitors mercilessly through page after page of your artistic brilliance. But on the other hand art often stands out best against a cool, calm background, against a simple, clear design that lets the creativity speak for itself. And that's what the New York-based artist Stephen Bliss has done, showing admirable restraint.
Boy, does Stephen's work speak for itself. As Senior Artist on Rockstar Games' Grand Theft Auto computer game for many years, his style is unmistakeably cool and contemporary. Artwork after artwork sits cleanly against plain white, with minimal words, and every image is clickable to reach a bigger version, again displayed simply against a white background. The 'about' page provides details about the artist but other than that, it's all about the art. And as far as purchasing goes, it's super-simple. Click on an image in the Store, click 'buy' and you're done. You can follow the artist on an impressive number of social networks too, with links clearly provided. This is definitively a site about art, it features masses of art, and it's easy to buy the art. Job done!