Your website has multiple roles. It acts as a business card, a brand awareness tool, a lead generator and a showcase for products and services. What's more, it has to be bang up to date and look great on any device. No wonder it can quickly start to look a bit tired.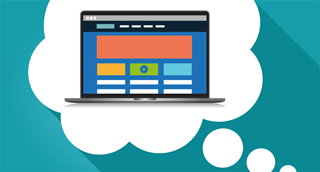 So, inevitably, your company website will need a revamp at some point. Common triggers for a website redesign include:
Business identity is no longer reflected

Outdated feel

No longer matches your branding

Not enough leads being generated, or they're not the right leads

Confusing and inconsistent user interface (UI)

Poor usability

High bounce rates

It's not mobile responsive

Competitor sites look better
Sound familiar?

Here, then, is a 10-point to-do list on how to redesign a website successfully and cost effectively



1. Define your target audience
Your target audience may well evolve over time. Try creating personas for your target demographics – these can inform the new look and feel of your website and the tone of your content.

2. Analyse what's working and what isn't.
Remember, there may be pages on your website that work really well. Why are they so successful? Use Google Analytics. Work out what pages are being visited and what pages are being ignored. Why? What buttons and links aren't getting clicked? Really try to understand your site's strengths and weaknesses, then use this information to help make decisions about your website redesign.

3. Inspiration and competition
Pep Guardiola, the revolutionary football coach of Barcelona, Bayern Munich and Manchester City fame, freely admits he's an ideas thief. He reckons to be a good coach, you first need to be a good thief.
Steve Jobs, Apple's founder, saw the success Napster and other file-sharing sites were having with music downloads, and saw opportunity. Apple replicated the Napster experience of a vast music catalogue, but with a more convenient interface, and synced it perfectly with their iPod hardware. They made downloading music easier, and iTunes was born.
As part of your website redesign process, think of your favourite websites. What can you learn from them? Why do you like them so much? Check out your competition. Why are they successful? What do you like? What are they doing different? What works and what doesn't work? Is there anything all your competitors are doing that you're not? Can you improve it further?

4. Set goals
These might be specific goals like increasing the number of website-generated leads by 20%, or increasing the conversion rate for optimised landing pages. You might set more design-led goals like creating a clean, clutter-free modern look, or maybe a more interactive site featuring sliders, scrolling animations, and interstitials.

5. Review brand guidelines and styles
It's very easy for inconsistencies to creep in over time, which can negatively impact the messages your website delivers. Are your brand guidelines up to date, or just dated? Do you even have brand guidelines? Is the tone of your website consistent with your brand? Are fonts and button styles consistent? How are images and icons displayed?

6. Create relevant content
Relevant content is king. It provides a more engaging experience for your visitors, encourages return visits, and Google loves it. Therefore relevant content is a must for your website redesign.
Find out how and why users arrived at your website. What are they looking for? Is your content engaging, and does it communicate a solution quicker than your competitors' websites? Work out what content is performing well and build on this.
Check the bounce rate on your home page and key landing pages. If visitors are leaving quickly, then your content isn't relevant, indicating it needs an overhaul as part of your website redesign.



7. Optimise for search engines
SEO experts think there are over 200 factors used by Google's search algorithm to rank websites and pages! You can't address them all, but here are some of the most important ones for your website redesign.

Ensure you're using:
Responsive and mobile-friendly web design
HTTPS rather than HTTP
Fast-loading pages
Easy-to-read content – break up long text with headers and sub-headers
ALT text for images
Open graph tags
Up-to-date XML sitemap
Landing pages that incorporate relevant keywords and, if appropriate, location-relevant keywords in URLs
Redirects to send visitors to an appropriate new URL if you've removed unwanted pages

8. Use responsive website design
Mobile browsing has overtaken desktop browsing, and most Google searches are carried out on mobile. Crucially, Google uses the presence of responsive website design as a key ranking factor. It's vital, therefore, to make your website responsive in your website makeover.



9. Review your CMS
As part of your website redesign, does your CMS need updating too? Does your CMS help or hinder? Are there functions you wish your CMS could carry out? Could it be more intuitive? If your CMS is easy to use, then you're more likely to add new content regularly. Regularly updated content, in turn, encourages return visits and is a recognised factor for positive Google rankings.



10. Set realistic timelines and costs
There are always time and cost implications involved with a website revamp. Some questions to ask during planning include:
Do you need every single page replicated?
Could you take a more agile approach, choosing to rebuild the most important pages in the user journey first, and then build the rest of the site in stages?
When do you need your redesigned website live by?
Are there upcoming business events to be ready for?
Does your relaunch need to tie-in with any industry show dates?
Are there new product launches to synchronise with?
Considering a website makeover?
We hope the above 10 designing a website tips were useful.
If you'd like help with a potential website redesign, get in touch with us today by filling in our contact form or calling us on 01844 888 777. It could be the start of something special!
In the meantime, you might also like to take a look at some of our recent website design work.